What is
PLM System?
The Product Life Cycle Management System (PLM System) is a system for integrated life cycle management and the entire process of product development ranging from product planning to sales and post-analysis. PLM has been used in a wide variety of industries since its introduction in manufacturing and its affiliates. Today, the company's systems and new technologies are being linked to advancement.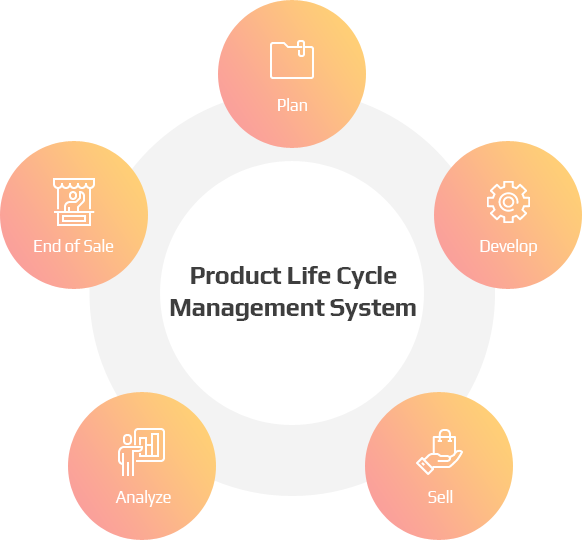 01

Optimize product lifecycle and
product-related processes across your organization

02

Provide the information you need
in each process in a timely manner

03

Maximize the lifetime value
of your product
InnoPLMProduct Life Cycle Management
System
InnoPLM is an intelligent financial product lifecycle management system based on InnoRules Digital Decision Manager (DDM) and InnoProduct Digital Product Manager (DPM). By providing standardized, procedural product processing standards for all tasks from product launch to end of sale, we provide speed and consistency in product development and operation. In addition, it can be applied universally to various industries and institutions within the financial industry through the connection with InnoRules DDM, and the lead time for new product launches and product changes can be innovatively shortened through connection with InnoProduct DPM.
Benefits
InnoPLM enables efficient product development and process management by establishing an enterprise-wide
collaboration system. Through this, the accumulated information becomes an asset and forms a work structure that can improve the speed of product development.




Efficient product development Process Management

To-do list management for assigned staff

Task progress and delay management

Sharing of task processing details between business managers

Reinforcement of work review function between relevant departments

Knowledge accumulation and assetization

Establishment of standardized procedures for product development and maintenance and company-wide product handling Assetization of product planning documents

Management of history of decision-making process for major task processing of product development

Life cycle integrated management from product planning to post analysis

Product planning, development, sales, post analysis, and management of all processes

Provides a single view for product information

Provide computational development efficiency
through InnoProduct linkage
Features
Business model management

Dynamic creation of business model based on meta-model Provision of task processing standards through standard forms Provides scalability through the use of variable properties

Business status management

Business initiation processing Process on hold for interruption of ongoing work Task resurrection process to resume the pending work

Process management

Creation of multiple processes according to various work environments DDM-based work flow control Efficient business procedure configuration through parallel task processing

Task schedule/permission management

Convenience provided through batch application of basic task schedule View the status of work progress against the registered schedule Reinforced operability and control through authority management

Task Processing

Confirmation of assigned work through to-do list Task processing screen composition by task type Tracking of completed tasks

System connection

Processing and inquiry of time/information system information through DDM linkage Provides convenience of product computerized development through DPM connection
Architecture
Cases
Find out why digital innovation is taking place across various industries,
and why many market-leading companies choose INNORULES as their digital innovation partner.